Air Conditioning Installation
Lennox and Carrier Ductless Air Conditioners
Ductless Air Conditioning systems from Lennox are a perfect option for high capacity cooling in homes and condos that do not have existing ductwork. The Lennox MS8C Mini-Split Air Conditioner features:
Efficiency rating of up to 22 SEER
ENERGY STAR® qualified meets or exceeds EPA guidelines for energy efficiency
Inverter technology slowly ramps up system to full speed, delivering only the air that is needed
Unique design makes system safer and more efficient than traditional window units
Indoor sound levels as low as 26 dB
Outdoor sounds levels as low as 50 dB
Inverter technology slowly ramps up system to full speed, delivering ultra-quiet comfort
Easy-to-use wireless remote control allows you to change the temperature to fit your comfort needs
Ductless design eliminates complicated installation or expensive modifications
Small, compact design blends into any room
For more information on installing a Lennox or Carrier air conditiong system, or for a comparable ductless air conditioning installation option from Trane, call for a free in-home consultation today.
Central Air Conditioning Installation - Featuring Aire-Flo Air Conditioners from Lennox International
Complete Heating and Air Conditioning is known for the installation of premium brands of air conditioners from both Lennox and Carrier. We continue to install air conditioners from Lennox International in the Abbotsford, Langley and Chilliwack areas, but we have changed from Lennox International's "Lennox" branded line to their "Aire-Flo" branded line. This change was made in response to many requests from our customers for the installation of high quality air conditioning equipment from Lennox, but at a more affordable price. For more information on which Aire-Flo air conditioner is right for you, please call us to schedule your free in-home estimate.
To learn more about the history of the Aire-Flo line of central air conditioners made by Lennox International, please see the following information bulletin from Lennox.
What is Aire-Flo™?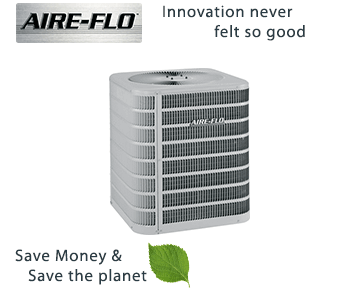 Aire-Flo is a brand of residential Heating and Air Conditioning equipment manufactured by Lennox International Incorporated and sold through the Residential Heating and Cooling Division of Lennox Industries. Lennox International Incorporated is a leading provider of climate control solutions for heating, air conditioning and refrigeration around the world.
What is the history of Aire-Flo?
The Aire-Flo brand was first introduced by Lennox® in the 1930s. From the 1930s through the 1960s Aire-Flo was co-branded as, "Aire-Flo Heating by Lennox" and the brand was commonly used in advertisements. Lennox reintroduced the brand in the 1990s; but, this time, Aire-Flo was marketed on its own merits, independent of the Lennox brand.
What's the difference between Lennox and Aire-Flo?
Aire-Flo and Lennox are both Lennox International brands that serve the residential Heating, Ventilation and Air Conditioning (HVAC) market.
The focus of the Aire-Flo brand is to provide quality, reliable products. Aire-Flo products feature money-saving energy efficiency and expert craftsmanship. With over 50 years' experience, Aire-Flo knows how to deliver durability, reliability and economy.
Lennox is built on a legacy of integrity and innovative firsts. That history began with the introduction of the riveted-steel furnace in 1895 and continues with the development of some of the most efficient air conditioners available today. Over the years, Lennox has set the standard for home comfort.
What is the Aire-Flo Brand Promise?
A brand promise is the benefit people count on or the experience a consumer expects from your product or service. The Aire-Flo brand provides quality, affordable products which serve the value sector of the residential Heating and Air Conditioning market.