Aire-Flo Heat Pumps from Lennox International - Installation and Replacement
Complete Heating has always been known for selling premium brands of heating and cooling equipment such as Lennox and Carrier. While we will continue to feature home heating and cooling systems from Lennox International Inc., we have recently changed from the "Lennox" line to the "Aire-Flo" line. This change was made in response to requests from our local customers for high quality heating and cooling equipment from Lennox International Inc., but at a more affordable price. For more information on which Aire-Flo product is right for you, please call.
To learn more about the history of the Aire-Flo line of high-efficiency furnaces, heat pumps and central air conditioners, please see the following information bulletin from Lennox.
What is Aire-Flo™?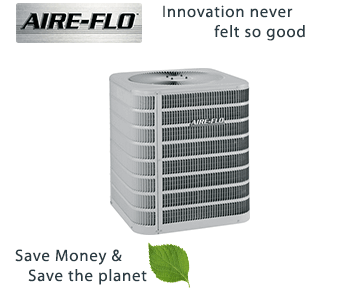 Aire-Flo is a brand of residential Heating and Air Conditioning equipment manufactured by Lennox International Incorporated and sold through the Residential Heating and Cooling Division of Lennox Industries. Lennox International Incorporated is a leading provider of climate control solutions for heating, air conditioning and refrigeration around the world. Lennox International Incorporated, through its subsidiaries, is a global leader in the heating, air conditioning, and refrigeration markets and is focused on four key businesses: Residential Heating and Cooling, Commercial Heating and Cooling, Service Experts and Refrigeration. For more information visit: lennoxinternational.com.
What is the history of Aire-Flo?
The Aire-Flo brand was first introduced by Lennox® in the 1930s. From the 1930s through the 1960s Aire-Flo was co-branded as, "Aire-Flo Heating by Lennox" and the brand was commonly used in advertisements. Lennox reintroduced the brand in the 1990s; but, this time, Aire-Flo was marketed on its own merits, independent of the Lennox brand.
What's the difference between Lennox and Aire-Flo?
Aire-Flo and Lennox are both Lennox International brands that serve the residential Heating, Ventilation and Air Conditioning (HVAC) market.
The focus of the Aire-Flo brand is to provide quality, reliable products, while building a strong relationship with the installing and servicing contractors that buy Aire-Flo products. Aire-Flo products feature money-saving energy efficiency and expert craftsmanship. With over 50 years' experience, Aire-Flo knows how to deliver durability, reliability and economy.
Lennox is built on a legacy of integrity and innovative firsts. That history began with the introduction of the riveted-steel furnace in 1895 and continues with the development of some of the most efficient air conditioners available today. Over the years, Lennox has set the standard for home comfort. Lennox continues to push the standard forward with a lineup of more than 60 leading-edge products and a network of more than 6,000 full-service dealers.
What is the Aire-Flo Brand Promise?
A brand promise is the benefit people count on or the experience a consumer expects from your product or service. The Aire-Flo brand provides quality, affordable products which serve the value sector of the residential Heating and Air Conditioning market.