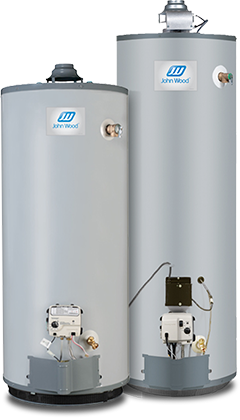 Proven Technology. Exceptional Reliability. Peace-of-mind.
John Wood offers a complete line of residential natural gas and propane water heaters that feature technological innovation and design durability and efficiency. Flame Guard® Safety System
Recent changes in industry standards require that certain gas-fired water heaters feature Flammable Vapor Ignition Resistant (FVIR) technology, to prevent the ignition of flammable vapours. With over 4 billion hours of outstanding performance in the field and more than 800,000 installations in homes across North America, John Wood Flame Guard® safety system gas water heaters are the only Flammable Vapour Ignition Resistant (FVIR) compliant water heaters on the market with more than five years of proven technology that you can trust.
FLAME GUARD® SAFETY SYSTEM

The Flame Guard® Safety System is a recognized and proven technology, exclusive to GSW and John Wood residential gas water heaters. The award-winning Flame Guard® Safety System protects the consumer by trapping burning vapours within the water heater combustion chamber through the patented "Flame-Trap." As long as the vapours are present and within the flammability range, they will continue to burn safely until they "burn themselves out."
SUPERFLUE® SAFETY SYSTEM USED ON JOHN WOOD® PV WATER HEATERS

The Flammable Vapour Ignition Resistant (FVIR) Superflue® Safety System is a cutting-edge design unique to GSW power vented residential gas water heaters. The Superflue® Safety System features a flammable vapour sensor that protects the consumer by detecting the presence of flammable vapours in the atmosphere around the water heater and disabling the unit to minimize the risk of ignition. It also features a robust air intake snorkel that inhibits flammable vapours from entering the combustion chamber and igniting.
SPECIFICATIONS:
Glass-lined inner flue prevents scaling.
Robust 1/4" pilot tubing for durability.
Exceeds new NRCan energy requirements.
Large viewport for easy access to pilot.
CFC-free foam insulation.