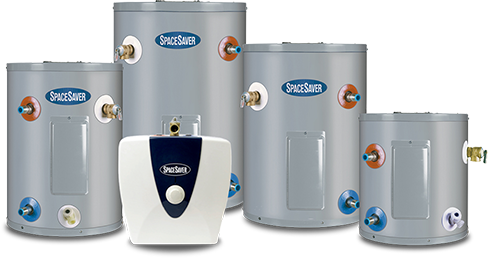 Put hot water right where you need it!
The compact design of our SpaceSaver line of water heaters puts hot water right where you need it in locations from home to office, garage to cottage or wet bar to pool house. Available in a wide range of sizes, our SpaceSaver models are ideal for applications where space is at a premium.

XP16 Heat PumpThe SpaceSaver line now includes our smallest, plug-in water heater which features a wall-hanging capability. Complete with a temperature and pressure relief valve, the unit plugs into any standard outlet. With its 18.2"H x 11.4"W x 11.4"D size and 10-litre capacity, this compact water heater fits almost anywhere and meets hundreds of low-use needs.
SPECIFICATIONS:
Designed for installation in cottages, offices, mobile homes and other applications where space is limited.
Meets latest energy efficiency standards.
Galvanized bottom pan protects water heater.
Personnel protector covers elements and controls for added safety.